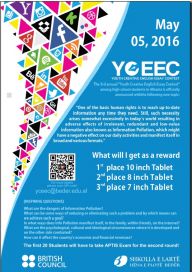 YCEEC - 3rd YOUTH CREATIVE ENGLISH ESSAY CONTEST
The Department of English Language and Literature

wishes to inform you about a unique opportunity.
All the pen-lovers who would like to share

their writings are informed that the
3rd YOUTH CREATIVE ENGLISH ESSAY CONTEST
for young high school students in

Albania
THIS YEAR EDITION'S TOPIC IS...
One of the basic human rights is to reach up-to-date information any time they need. Still, such necessity arises somewhat excessively in today`s world resulting in adverse effects of irrelevant, redundant and low-value information also known as Information Pollution, which might have a negative effect on our daily activities and manifest itself in broad and various formats.
[INSPIRING QUESTIONS]
What are the dangers of Information Pollution?
What can be some ways of reducing or eliminating such a problem and by which means can we achieve such a goal?
In what ways does Info Pollution manifest itself, in the family, within friends, on the internet?
What are the psychological, cultural and ideological circumstances where it is developed and on the other side combated?
How can it affect the country's economic and financial revenues?
PS: THE RESULTS WILL BE ANNOUNCED ON THE AWARD CEREMONY DAY
On 26th MAY 2016 [Time:14.00, Venue: Conference Hall, Floor -1, BEDËR UNIVERSITY ]
IMPORTANT DATES
24th DECEMBER 2016

Call for Essays

24th DECEMBER - 05th

MAY 2016

Writing Period

05

th

MAY 2016

Deadline for Essay Submission

10th

-

16

th

MAY 2016

Announcement of Results - the Winners

26

th

MAY 2016

Awards Ceremony