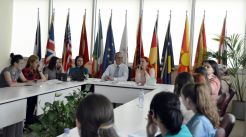 2nd International Conference on English Language and Literature,
ICELL 2016 – Virtual Edition
The 2nd International Conference on English Language and Literature, ICELL 2016, held on June 2nd 2016 in the premises of "Hëna e Plotë" Bedër University, was organised by the Department of English Language and Literature in collaboration with International Burch University Sarejevo and British Council Albania.
The Conference held one Plenary Session: Opening Speech and Keynote Panel Speeches and one full-length Session of participants and students. All international participants were connected through Skype and broadcasted live on Twitter Periscope.
This Edition was merely Virtual, and counted participants from :
1. the USA
PhD. YUSUF INCETAS [Associate Professor at Heritage University, Toppenish, Washington]
PhD. RAQUEL LANSEROS [Poet, translator and visiting scholar, University of West Florida, Pensacola, Florida]
2. MALAYSIA
Prof. Dr. MAYA DAVID [Faculty of Languages and Linguistics, University of Malaya, Kuala Lumpur]
3. INDIA
PhD. SUMITA ASHRI [Assistant Professor (English), Government College, Julana (Jind)-Haryana]
4. GREECE,
ISAAK PAPADOPOULOS [Aristotle University of Thessaloniki] & Dr. ELENI GRIVA [Associate Professor of Applied Linguistics - University of Western Macedonia]
5. GEORGIA,
PhD. Cand. MURAT ERGUVAN [International Black Sea University (IBSU), Tbilisi]
6. NIGERIA
PhD. ESTHER O. BAMIGBOLA; JOHN TEMITOPE OLUMODI & A. T. ADELEYE-ABIWO
[Department of English Studies, Adekunle Ajasin University, Akungba-Akoko, Ondo State]
7. ALBANIA
Dr. Jonida PETRO & Dr. Drita RIRA
MSc Fatma SHOPI (CAKA)
MSc Sonila TATILI
Dr. Joana TAÇI (BAZAITI
Dr. Leonarda MYSLIHAKA
From students who hold papers:
Megi KELMENTI
Sidorela ZHGUNI
Sümeyra UYURCA
Alma DIBRA
Florida LENA
Hysni KAFAZI
Melik OZEN
Enejda GJANA
Gulperi ILTER
Semiha KAYA
Betul TATLICI
The basic concept of this conference is "the mutual commitment to raising linguistic, cultural, ideological and literary awareness and the close interconnection between linguistic–literary sciences and practices in the field of teaching English." Academicians and students came together to promote the education and the literary and cultural flows of minds diverging from mainstream, of disciplines and theoretical corpora that sings to the literary and cultural harmony of the word and serves as a polyphony to articulate the democratic spirit of the word, thus hoping to become the legitimate chorus of imagination of language and history.
The main topics addressed at the conference include:
a. Issues of word formation and language variations treated in qualitative and quantitative approaches
b. Issues of language development, intercultural communication and the role of English language in literary and artistic development after the colonization
c. Issues on reconceptualising the culture and literature in today's scientific world, and the role of technologies in English language teaching and learning (ELT)
d. Issues of literary projections, mythological symbolism and poetic aesthetics in genres like poetry, and simulation or changes pertaining to theoretical discourse and translation
e. Issues of case-disciplinary research and critical reflection of sexist and racist problems in post-modern English and American novel
f. Issues of cognitive policy and social-cultural metamorphosis according to a functional perspective
g. Issues on the contributions of traditional linguistics in shaping the African narrative tradition and morphosyntactic, pragmatic, and semasiological displacements through a comparative perspective